Christian Devotional – December 20, 2019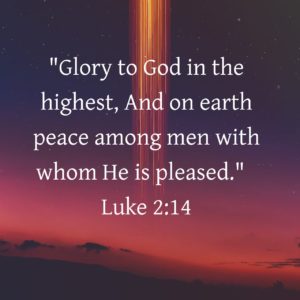 The message. Christ has come and what do the angels do? The same thing they always do. They praise God. Read Luke 2:13-14.
And suddenly there appeared with the angel a multitude of the heavenly host praising God and saying, "Glory to God in the highest, And on earth peace among men with whom He is pleased."
Luke 2:13‭-‬14 NASB
https://bible.com/bible/100/luk.2.13-14.NASB
Every time we see angels, they are praising God. They are delivering messages from God to people and they're praising God for those messages. This announcement is certainly a cause for celebration and praise. God has come to Earth and because of that he deserves all glory and we on Earth will be blessed with peace.
Do we seek to praise God in everything that we do, just as the angels do? They see him and are around him and they understand the depth of his holiness and majesty. They know that he is a worthy and deserving of all praise. Remember all that God has done for us this Christmas. Spend time giving him the praise that he deserves.
Please follow and like us: