Christian Devotional – December 5, 2019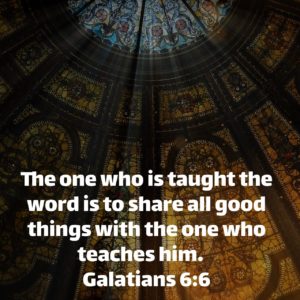 The student is responsible for sharing. I read these words today and they just sort of jumped out. Read Galatians 6:6.
The one who is taught the word is to share all good things with the one who teaches him.
Galatians 6:6 NASB
https://bible.com/bible/100/gal.6.6.NASB
The one who is taught is responsible to share. The learners, the students, they are the ones who should be sharing with their teachers what they are learning and what it means to them. That is so backwards from how we teach most things. We assume the teacher should be the one talking and sharing the most. Yet, here we see the importance of the one who is learning sharing with their teacher what they are learning and how they are applying it.
When was the last time we shared with someone what we had learned from them? Do we take the time to go back and thank people for the things they have taught us? As we understand God's word, relationship and fellowship comes through sharing what God is doing in our lives, and a big part of that comes through what we have been taught by those around us. Are we honoring the time they spent and the focus they placed on us by sharing with them the impact that their teaching his made on us?
Who do you need to contact today and thank and then share with?
Please follow and like us: