Christian Devotional – February 20, 2019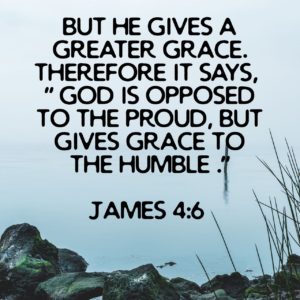 Grace and humility. They go together and where you find one you see the other. See what James says about them in James 4:5-6.
But He gives a greater grace. Therefore it says, " God is opposed to the proud, but gives grace to the humble ."
James 4:6 NASB
https://bible.com/bible/100/jas.4.6.NASB
God gives grace to the humble. The one who puts others first and doesn't seek their own advantage, God gives them grace. The opposite of humility is pride, where you think more highly of yourself and your ability than you ought. True humility understands that everything about them that is good is a result of God working in their lives. We are nothing without Him. He knows it. Pride then, is nothing more than lying to ourselves and others about who we are and what we can do.
Are we prideful and find ourselves opposing God? Or do we give Him the honor and praise that He is due?
Please follow and like us: