Christian Devotional – January 13, 2019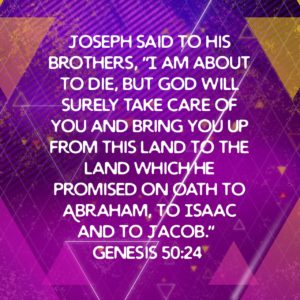 God's promises endure. Joseph had seen that very thing throughout his entire life and now, here at the end, he wants to make sure that everyone else knows it too. Read Genesis 50:22-26.
Joseph said to his brothers, "I am about to die, but God will surely take care of you and bring you up from this land to the land which He promised on oath to Abraham, to Isaac and to Jacob."
Genesis 50:24 NASB
https://bible.com/bible/100/gen.50.24.NASB
God had promised them that they would return to the promised land. Joseph understood that God's promises live on and are not dependent on us, but on God. Joseph didn't have to be alive or around for God to follow through on what He said he was going to do. He would do it because He is God. (Numbers 23:19).
Do we believe that God will follow through on His promises? Do we recognize that often His promises are bigger than us and do not require us to be around? Sometimes God's promises extend beyond what we will see in our lifetime here on earth, but that doesn't change how we can trust in them.
Joseph knew that God would continue moving and working and that His life had only been a part of all that God was doing. Are we being part of God's bigger plan for everyone?
Please follow and like us: