Christian Devotional – January 18, 2019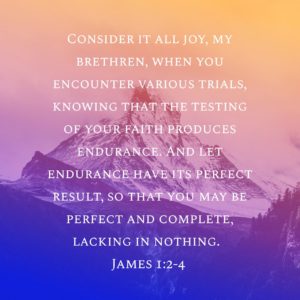 Consider it joy. So many people want and seek after joy in their lives. They want to "feel" it and yet often they struggle to define exactly what is meant by it. James doesn't. He knows exactly how to get joy. Read James 1:2-4.
Consider it all joy, my brethren, when you encounter various trials, knowing that the testing of your faith produces endurance. And let endurance have its perfect result, so that you may be perfect and complete, lacking in nothing.
James 1:2‭-‬4 NASB
https://bible.com/bible/100/jas.1.2-4.NASB
So, joy is a choice. We can choose to have and experience joy. What does joy look like? Well, James gives a formula.
Joy comes from – trials –> endurance through trials –> allowing endurance to shape character –> character growth
Joy is a choice that is a result of our experiences pushing us to become more like Christ every day. As believers, our desire is to more closely resemble Jesus Christ each day. We understand that better and better as we go through the struggles that teach us to allow Him more and more control of our lives every day.
Do we welcome the opportunity to grow to be more like Christ? Do seek out ways to grow, knowing that many of those lessons will not feel pleasant in the process? Finally, do we choose joy in the midst of all, knowing we are more closely reflecting Jesus Christ each day?
Please follow and like us: