Christian Devotional – July 18, 2019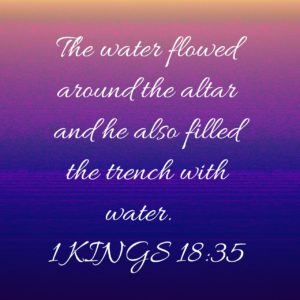 Unusual. Elijah has been working with an audience to rebuild the altar of God and then prove that God is still the one true God. But now, he does something very unusual. Read 1 Kings 18:33-35.
Then he arranged the wood and cut the ox in pieces and laid it on the wood. And he said, "Fill four pitchers with water and pour it on the burnt offering and on the wood." And he said, "Do it a second time," and they did it a second time. And he said, "Do it a third time," and they did it a third time. The water flowed around the altar and he also filled the trench with water.
1 KINGS 18:33‭-‬35 NASB
https://bible.com/bible/100/1ki.18.33-35.NASB
Water, on a burnt offering. Seems very contradictory, especially since they are going to be looking to light that on fire. However, Elijah doesn't want to leave any doubt in anyone's minds that God is truly the Lord of all. So he sets about making this as difficult of a challenge as he can by completely soaking the offering before he asks God to burn it up.
Are we willing to do something unusual? Do we trust God to be more powerful than the unusual situation and circumstance? Are we willing to pray, "God, I need the unusual in my life today. I want to see your power and demonstrate that to everyone who is looking at my life. Thank you for being more powerful than anything we could put together or make ourselves."
Please follow and like us: