Christian Devotional – July 19, 2019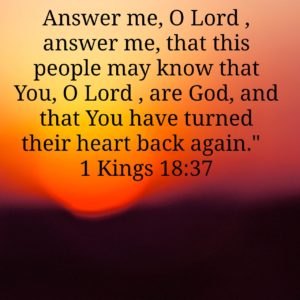 Why do we want God to answer our prayers? Is it so we can just get what we want or are we interested in making sure that God gets what he desires as well? Elijah was thinking about threat when he prayed in 1 Kings 18:36-37.
At the time of the offering of the evening sacrifice, Elijah the prophet came near and said, "O Lord , the God of Abraham, Isaac and Israel, today let it be known that You are God in Israel and that I am Your servant and I have done all these things at Your word. Answer me, O Lord , answer me, that this people may know that You, O Lord , are God, and that You have turned their heart back again."
1 Kings 18:36‭-‬37 NASB
https://bible.com/bible/100/1ki.18.36-37.NASB
Elijah wanted God to be known in the country again. He had an audience and everyone was watching. Elijah knew that God desired to be glorified and that if he displayed his power the people would see and would turn to him.
Why do we pray? Are we just selfishly long to have God meet our needs or are we seeking to see God's name glorified and lifted up? We are to seek his glory today and every day.
Please follow and like us: