Christian Devotional – July 20, 2019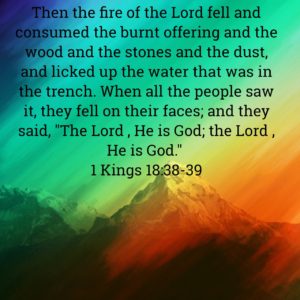 Proof. Well, the people needed proof that God is who he says he is, so they got it. Read 1 Kings 18:38-39.
Then the fire of the Lord fell and consumed the burnt offering and the wood and the stones and the dust, and licked up the water that was in the trench. When all the people saw it, they fell on their faces; and they said, "The Lord , He is God; the Lord , He is God."
1 Kings 18:38‭-‬39 NASB
https://bible.com/bible/100/1ki.18.38-39.NASB
Even with all that water, the fire of God falls, the offering is burned up and the water is all completely gone. God has proven Himself and the people respond by falling down and worshipping Him.
When we see God move, how do we respond? Are we in awe of all that God does and all that He is? Do we worship Him? All that we see God do, He does so that we would recognize His glory and give Him the praise and worship that He deserves. Do we worship Him as He deserves to be worshipped?
Please follow and like us: