Christian Devotional – July 23, 2019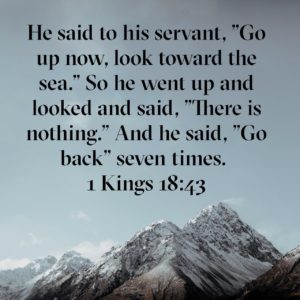 Persistance. Do we keep waiting on God until He does what He's said He is going to do? Read 1 Kings 18:42-43.
So Ahab went up to eat and drink. But Elijah went up to the top of Carmel; and he crouched down on the earth and put his face between his knees. He said to his servant, "Go up now, look toward the sea." So he went up and looked and said, "There is nothing." And he said, "Go back" seven times.
1 Kings 18:42‭-‬43 NASB
https://bible.com/bible/100/1ki.18.42-43.NASB
Ahab went off to do what Elijah told him to do and now Elijah goes up to the mountain to wait and see God do what he said he will do. Elijah's servant goes with him and Elijah sends him back over and over again until this servant sees the beginning of the promise fulfilled.
Do we wait on God? I mean, do we really wait? In this society of fast food, microwaves, and Twitter, we expect everything to happen immediately. God's promises do not happen immediately, but they always happen. God always does what he says he is going to do.
Are we persistent in our prayers? Are we persistent in our faith? Do we hold on, even when there is no reason that we can physically or tangibly see, but we hold on anyway because we have faith and trust that God is who he says he is? We can trust in God. Just like Elijah, we can keep asking and keep asking until we see God's promise fulfilled.
Please follow and like us: