Christian Devotional – July 6, 2019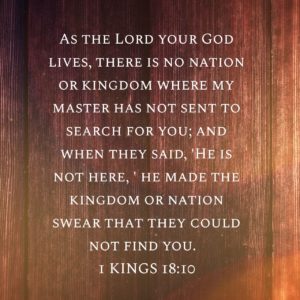 "What did I do?" Obadiah thinks he is in trouble. Elijah tells him to go and find Ahab and talk him that Elijah is here. But Obadiah knows how much Ahab has been looking for him and that Ahab wants to kill Elijah. Obadiah also knows that the Lord will keep Elijah safe. Read 1 Kings 18:9-11.
He said, "What sin have I committed, that you are giving your servant into the hand of Ahab to put me to death? As the Lord your God lives, there is no nation or kingdom where my master has not sent to search for you; and when they said, 'He is not here, ' he made the kingdom or nation swear that they could not find you. And now you are saying, 'Go, say to your master, "Behold, Elijah is here. "'
1 KINGS 18:9‭-‬11 NASB
https://bible.com/bible/100/1ki.18.9-11.NASB
Since Obadiah knowed that Ahab wants Elijah dead and that the lord will keep him safe, he can't see any way that he comes out of this still alive. He sees Ahab getting angry with him and killing him.
So many times my first reaction to what God tells me to do is fear. I am afraid of the outcome, the cost, the work, everything. I like to be able to see the end result before I start and most of the time that isn't how God operates. Are we trusting God with our fears? Do we trust God enough to continue to act even in the midst of our fears? Obadiah is being tested in this right now. Has God asked us to do something that we're not sure about? We can trust Him.
Please follow and like us: