Christian Devotional – July 9, 2019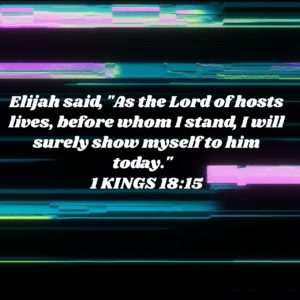 Trust and obey. The title of a hymn really defines the message from our verses today. Read 1 Kings 18:14-16.
And now you are saying, 'Go, say to your master, "Behold, Elijah is here "'; he will then kill me." Elijah said, "As the Lord of hosts lives, before whom I stand, I will surely show myself to him today." So Obadiah went to meet Ahab and told him; and Ahab went to meet Elijah.
1 KINGS 18:14‭-‬16 NASB
https://bible.com/bible/100/1ki.18.14-16.NASB
Obadiah had explained his concerns and Elijah had listened to them, but then he explained what he was going to do and it left Obadiah with the choice to simply trust him and obey what he tools him to do.
When God tells us what he is going to do, do we take him away his word and trust him? Do we then act on that trust and obey him? We can say we trust God, but until we do what he tells us to do, we're aren't really showing that we're trust. Trust and obey go together. As it says in the song,
Trust and obey, for there's no other way,

To be happy in Jesus, but to trust obey.
Please follow and like us: