Christian Devotional – June 2, 2020
The Message – #50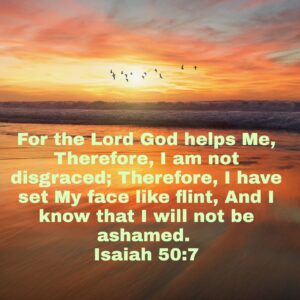 My help. The Lord is my help. He vindicates me and because of him, I am not disgraced. Read Isaiah chapter 50 and focus on verse 7.
For the Lord God helps Me, Therefore, I am not disgraced; Therefore, I have set My face like flint, And I know that I will not be ashamed.
Isaiah 50:7 NASB
https://bible.com/bible/100/isa.50.7.NASB
We do not have to try to help ourselves. Anything that we do or try to do results in our being disgraced. When God helps us, that is when we are not disgraced. Are we relying on God to defend us? Are we relying on God to set the path before us that we are to walk? Or, are we pushing forward with our own ideas and our own agenda?
Unless we are waiting on God and following his plan, we will come to ruin and to failure. God will defend us. God will vindicate us. But we must wait on him and trust in him.
Please follow and like us: