Christian Devotional – June 22, 2020
Before the Gap – #2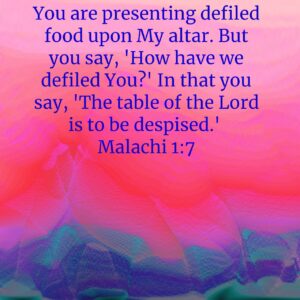 Bring God your best. The people had forgotten that. They were still bringing God an offering, but it was far from their best. They were just bringing something to bring it and check off a box that it was done. Read Malachi 1:6-9.
" 'A son honors his father, and a servant his master. Then if I am a father, where is My honor? And if I am a master, where is My respect?' says the Lord of hosts to you, O priests who despise My name. But you say, 'How have we despised Your name?' You are presenting defiled food upon My altar. But you say, 'How have we defiled You?' In that you say, 'The table of the Lord is to be despised.' But when you present the blind for sacrifice, is it not evil? And when you present the lame and sick, is it not evil? Why not offer it to your governor? Would he be pleased with you? Or would he receive you kindly?" says the Lord of hosts. "But now will you not entreat God's favor, that He may be gracious to us? With such an offering on your part, will He receive any of you kindly?" says the Lord of hosts.
Malachi 1:6‭-‬9 NASB
https://bible.com/bible/100/mal.1.6-9.NASB
What do we bring to God? What does our sacrifice look like? Are we coming to God with a sacrificial heart, bringing Him our best, or are we trying to slide by on a less-than-perfect sacrifice? God desires and deserves our best. Will we give Him that?
Please follow and like us: