Christian Devotional – June 28, 2020
Before the Gap – #7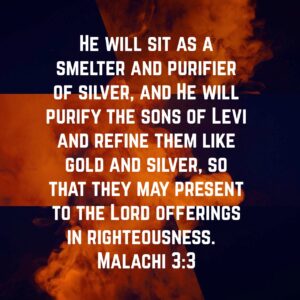 God must purify. As we continue looking at the last things God said to the people before a 100 year gap, we see God telling the people that he must be the one to purify them. God had already established through the first two chapters of Malachi that the people have a problem and are not pure. Now, he shares with them that the way to become pure is to allow God to purify them. Read Malachi 3:1-4.
"Behold, I am going to send My messenger, and he will clear the way before Me. And the Lord, whom you seek, will suddenly come to His temple; and the messenger of the covenant, in whom you delight, behold, He is coming," says the Lord of hosts. "But who can endure the day of His coming? And who can stand when He appears? For He is like a refiner's fire and like fullers' soap. He will sit as a smelter and purifier of silver, and He will purify the sons of Levi and refine them like gold and silver, so that they may present to the Lord offerings in righteousness. Then the offering of Judah and Jerusalem will be pleasing to the Lord as in the days of old and as in former years.
Malachi 3:1‭-‬4 NASB
https://bible.com/bible/100/mal.3.1-4.NASB
God is the one who will purifier the Levites. God is the one who allow them to be made clean and whole. As a result, they will bring true offerings in righteousness.
How do we get to the place where we can bring offerings and righteousness? God has to be able to purify us. We have to allow God to have control of our lives so that he can purify and cleanse us from the sin that is in our hearts and our lives. Will we?
Please follow and like us: