Christian Devotional – June 29, 2019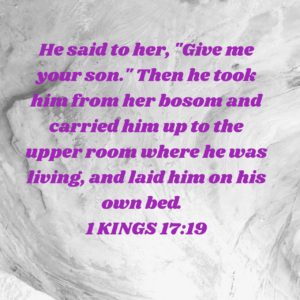 The widow's son has died. The widow feels like it is a punishment. So what does Elijah do? Read 1 Kings 17:19.
He said to her, "Give me your son." Then he took him from her bosom and carried him up to the upper room where he was living, and laid him on his own bed.
1 KINGS 17:19 NASB
https://bible.com/bible/100/1ki.17.19.NASB
Elijah took action. He wanted to make sure that whatever God's plan that he was going to be right in line with it. He took the son from the widow and placed him in his own bed.
When we see needs that others have, do we reach out and take action? Will we try to help and make sure that they see God in our actions?