Christian Devotional – June 29, 2020
Before the Gap – #8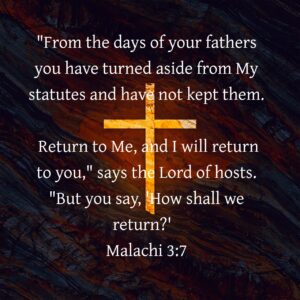 If we turn to God, he will turn to us. Read this description in Malachi 3:5-7.
"Then I will draw near to you for judgment; and I will be a swift witness against the sorcerers and against the adulterers and against those who swear falsely, and against those who oppress the wage earner in his wages, the widow and the orphan, and those who turn aside the alien and do not fear Me," says the Lord of hosts. "For I, the Lord , do not change; therefore you, O sons of Jacob, are not consumed. "From the days of your fathers you have turned aside from My statutes and have not kept them. Return to Me, and I will return to you," says the Lord of hosts. "But you say, 'How shall we return?'
Malachi 3:5‭-‬7 NASB
https://bible.com/bible/100/mal.3.5-7.NASB
God knows they have messed up, but he is talking about how important it is for the people to repent. God makes a promise. If we will repent and return to Him, then He will return to us.
Do we see and feel God's presence in our lives? If not, have we repented of the areas that we have messed up and fallen short? If we will repent, God will return.
Please follow and like us: