Christian Devotional – June 3, 2020
The Message – #51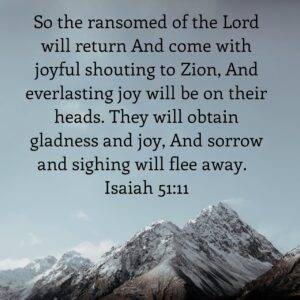 There will be joy! Even when it doesn't feel like it right now, God wins! There will be everlasting joy. Read Isaiah chapter 51 and focus on verse 11.
So the ransomed of the Lord will return And come with joyful shouting to Zion, And everlasting joy will be on their heads. They will obtain gladness and joy, And sorrow and sighing will flee away.
Isaiah 51:11 NASB
https://bible.com/bible/100/isa.51.11.NASB
God has not forgotten us. We are the ransomed of the Lord if we have accepted Jesus Christ into our lives, and there will come a point where we will return to what God has promised us. There will be joy. There will be lots of joy! We will finally be home.
This world is not our home and all the things that we deal with in it are all things that God has victory over ultimately, even when we don't feel like it right now. Do we live with the mindset that we are victorious in him?
Sorrow and sadness will flee away and we will experience joy. We can have that joy now, even while we are going through the difficulties. Keep our eyes focused on him, and him alone. Only through Jesus Christ can we experience true joy!
Please follow and like us: