Christian Devotional – June 4, 2019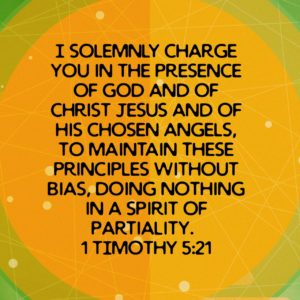 These principles. We are to maintain an attitude of serving and loving Christ, while having patience to deal with the rest of the world. Listen to how Paul puts it in 1 Timothy 5:21-22.
I solemnly charge you in the presence of God and of Christ Jesus and of His chosen angels, to maintain these principles without bias, doing nothing in a spirit of partiality. Do not lay hands upon anyone too hastily and thereby share responsibility for the sins of others; keep yourself free from sin.
1 TIMOTHY 5:21‭-‬22 NASB
https://bible.com/bible/100/1ti.5.21-22.NASB
We are to maintain these principles. Which principles? All the ones that have come before this verse. Paul has lined out multiple principles of leadership and service of Christ throughout this book. Now, he is charging Timothy to keep them.
Have we been listening to, and are we open to, all these principles that Paul has shared? Timothy was reading through this as a way in which to understand how to better lead God's church here on Earth. Whether we are leading a church, leading a family, or simply leading ourselves, we have the same charge placed upon us to follow these principles and live them out each and every day. This way, we will glorify God through our actions and our relationships with other.