Christian Devotional – June 4, 2020
The Message – #52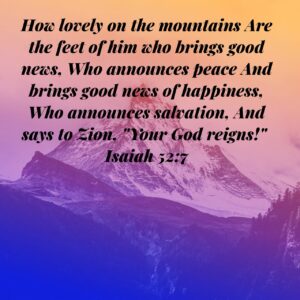 What is our message? What do others hear from us? Read Isaiah chapter 52 with a focus on verse 7.
How lovely on the mountains Are the feet of him who brings good news, Who announces peace And brings good news of happiness, Who announces salvation, And says to Zion, "Your God reigns!"
Isaiah 52:7 NASB
https://bible.com/bible/100/isa.52.7.NASB
Are our feet lovely? Do we bring good news and peace to everyone we come into contact with? Are we sharing the message of Jesus Christ with others? The answers to these questions are what determines our beauty. While this world gets all caught up in the physical attributes and characteristics of people, God is looking at the heart and the message. Do we see ourselves as God sees us? Do we see others as God sees us?
Please follow and like us: