Christian Devotional – June, 5, 2020
The Message – #53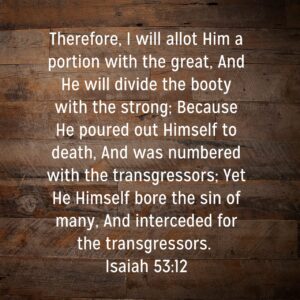 An entire chapter dedicated to the suffering servant. I'm sure as Isaiah was writing this he had no idea what God had in store, yet God knew exactly how he intended to fulfill everything in this chapter. Take a minute and read the entire chapter 53 of Isaiah. So many verses that are so familiar to us, and I chose to focus on verse 12.
Therefore, I will allot Him a portion with the great, And He will divide the booty with the strong; Because He poured out Himself to death, And was numbered with the transgressors; Yet He Himself bore the sin of many, And interceded for the transgressors. Isaiah 53:12 NASB https://bible.com/bible/100/isa.53.12.NASB
After all that God allows his servant to go through, God exalts him. He gives him the reward that he is due for all that he has gone through and the price that he has paid on behalf of all of us. Everything that is described in this chapter should have happened to us. That's what we deserve because of our sin.
Yet, God in his mercy, sent Jesus Christ who fulfilled this on our behalf and took the punishment that we should have received and then ecalted him. Have we exalted Christ in our own lives the way that God has exalted him? Do we give him all of our life? He is most definitely worthy.
Please follow and like us: