Christian Devotional – March 21, 2020
Running the Race – #27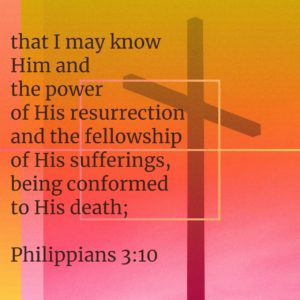 Philippians 3:8-11 – More than that, I count all things to be loss in view of the surpassing value of knowing Christ Jesus my Lord, for whom I have suffered the loss of all things, and count them but rubbish so that I may gain Christ, and may be found in Him, not having a righteousness of my own derived from the Law, but that which is through faith in Christ, the righteousness which comes from God on the basis of faith, that I may know Him and the power of His resurrection and the fellowship of His sufferings, being conformed to His death; in order that I may attain to the resurrection from the dead.
Philippians 3:8‭-‬11 NASB
https://bible.com/bible/100/php.3.8-11.NASB
Paul understood the superpower of sacrifice. He had seen enough to recognize that he did not have much power on his own. God is the one who holds the power. As a result, the way Paul can demonstrate and experience the power of God in his life is through sacrifice. As Paul recognizes that there is nothing that he can do that will bring about the same results as what God can do, that is when he experiences the true power of God in each and every situation in his life.
As we go through these dark and difficult times, we see so much chaos, fear, and uncertainty around us. It can be difficult for people to even understand how to navigate a crisis like this. However, I know that my power is nothing compared to the power of God. I can trust God in each and every situation and live in peace knowing that he brings order. God brings purpose to chaos.
Are we trusting in God as we go through these times? Do we recognize the peace and stability that he brings? If we try to hold on to our own sense of power and control, we will lose every single time. Let go and allow God's power to live through us.