Christian Devotional – March 22, 2020
Running the Race – #28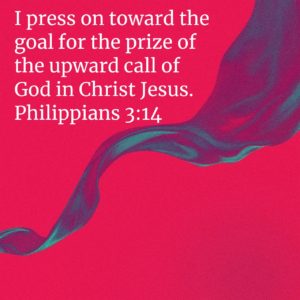 Philippians 3:12-14 – Not that I have already obtained it or have already become perfect, but I press on so that I may lay hold of that for which also I was laid hold of by Christ Jesus. Brethren, I do not regard myself as having laid hold of it yet; but one thing I do: forgetting what lies behind and reaching forward to what lies ahead, I press on toward the goal for the prize of the upward call of God in Christ Jesus.
Philippians 3:12‭-‬14 NASB
https://bible.com/bible/100/php.3.12-14.NASB
The Christian life is a process. First, we ask Christ into our heart and we are initially saved from all the sin that we have done and will do. Second, we continue day-by-day learning and growing and surrendering more fully to Jesus Christ as he continues to work and move and change us. Finally, we will be perfected when we are united with Christ in heaven.
All these things take time. We do not instantly know how to live the Christian life. And we are not instantly great at doing it. It's a process and we must continue to push forward to be better and more like Christ every day.
Are we pushing forward for the goal? Are we actively seeking to be better today at living the Christian life than we were yesterday? Do we look forward to the day when we will me made perfect with God? There is work involved with this. It doesn't just happen. Don't be a lazy Christian. Press forward and continually seek to be more like Christ today than yesterday.