Christian Devotional – May 12, 2019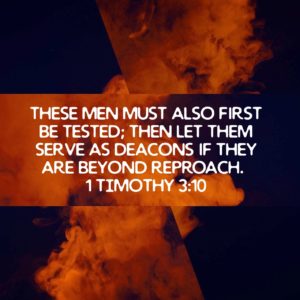 Tested. Those who choose to be part of leadership in churches should expect to be tested. As Paul moves on from discussing overseers or pastors to now discussing deacons, he mentions in this. Read 1 Timothy 3:8-10.
Deacons likewise must be men of dignity, not double-tongued, or addicted to much wine or fond of sordid gain, but holding to the mystery of the faith with a clear conscience. These men must also first be tested; then let them serve as deacons if they are beyond reproach.
1 TIMOTHY 3:8‭-‬10 NASB
https://bible.com/bible/100/1ti.3.8-10.NASB
There are also criteria mentioned here for deacons. Paul does not go into as much detail for this criteria, but he then mentions that they are only to serve after they have been tested. Service in the church is going to include testing. The reason for this is because of the profound amount of spiritual attack that will come when you serve in any kind of leadership capacity for God's work. The enemy is going to test you. So, the church should help those in leadership be ready for that. There should be accountability. There should be many opportunities for people to be able to walk together in ministry and leadership. Only through accountability and seeking Christ first in everything will a Deacon or an Overseer be able to do all that God has for them to do.
Please follow and like us: