Christian Devotional – May 24, 2019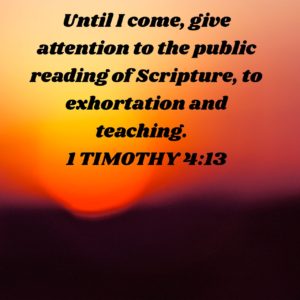 Specific instruction. Paul now turns to start giving Timothy some specific instructions for him to follow until Paul returns. Timothy is to continue to lean on scripture entirely for his teaching and training. Read 1 Timothy 4:13-14.
Until I come, give attention to the public reading of Scripture, to exhortation and teaching. Do not neglect the spiritual gift within you, which was bestowed on you through prophetic utterance with the laying on of hands by the presbytery.
1 TIMOTHY 4:13‭-‬14 NASB
https://bible.com/bible/100/1ti.4.13-14.NASB
What Timothy does, he is to do publicly. Studying the scripture, encouraging and building people up, as well as teaching others are all things that should be happening publicly. These are not things for Timothy to be doing in secret. He is to live out the Christian life in front of all the people he is around.
What about us? Do we give our attention to public reading of scripture? What about encouraging and lifting up other people? Or teaching others? Are we willing to step out and stand up for what we say we believe in? This was the instruction that Paul gave to Timothy and it still holds true for us today.
Please follow and like us: