Christian Devotional – September 11, 2020
Journey Through Ephesians, #6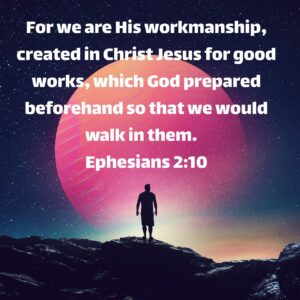 We are God's workmanship, created for his purpose. Read Ephesians 2:6-10.
and raised us up with Him, and seated us with Him in the heavenly places in Christ Jesus, so that in the ages to come He might show the surpassing riches of His grace in kindness toward us in Christ Jesus. For by grace you have been saved through faith; and that not of yourselves, it is the gift of God; not as a result of works, so that no one may boast. For we are His workmanship, created in Christ Jesus for good works, which God prepared beforehand so that we would walk in them.
Ephesians 2:6‭-‬10 NASB
https://bible.com/bible/100/eph.2.6-10.NASB
We are not saved as a result of the good works that we do. However, we are saved so that through us, God can showcase his good works to the world. We become a message board and a sign of all the wonderful things that God will do and can do through his people.
What type of message are we conveying to the people around us? Do I show and demonstrate the amazing works of God through my actions? We are God's workmanship. We are to demonstrate to others what God can do in a life that he has control over. Do we allow Christ control so that he can move and work through us, demonstrating his good works.