Christian Devotional – September 28, 2020
Journey Through Ephesians, #18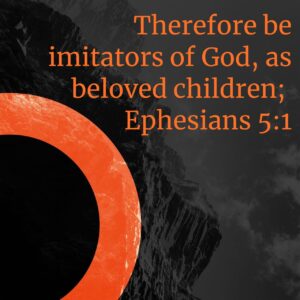 How do we show God we love him? We imitate him. Read Ephesians 5:1-5.
Therefore be imitators of God, as beloved children; and walk in love, just as Christ also loved you and gave Himself up for us, an offering and a sacrifice to God as a fragrant aroma. But immorality or any impurity or greed must not even be named among you, as is proper among saints; and there must be no filthiness and silly talk, or coarse jesting, which are not fitting, but rather giving of thanks. For this you know with certainty, that no immoral or impure person or covetous man, who is an idolater, has an inheritance in the kingdom of Christ and God.
Ephesians 5:1‭-‬5 NASB
https://bible.com/bible/100/eph.5.1-5.NASB
As children of God, we show him our love through our imitation of him. There are so many ways that people can share Christ and demonstrate him in their lives. And that is exactly what we do. When we love God, we seek to imitate him in every area of our lives. What do our lives show others about God?