Christian Devotional – September 29, 2020
Journey Through Ephesians, #19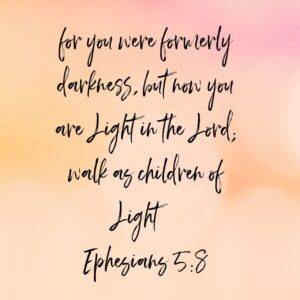 We are children of light. Read Ephesians 5:6-10.
Let no one deceive you with empty words, for because of these things the wrath of God comes upon the sons of disobedience. Therefore do not be partakers with them; for you were formerly darkness, but now you are Light in the Lord; walk as children of Light (for the fruit of the Light consists in all goodness and righteousness and truth), trying to learn what is pleasing to the Lord.
Ephesians 5:6‭-‬10 NASB
https://bible.com/bible/100/eph.5.6-10.NASB
As we are learning what is pleasing to the Lord, we are to walk in the light. We are to be so closely aligned with Him that we are not deceived in any way because we know so well what God is doing. Does that describe us?