Christian Devotional – September 8, 2020
Journey Through Ephesians, #3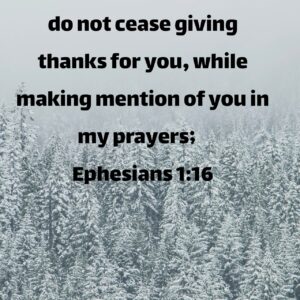 Paul was earnestly praying for the people while thanking God for them. Read Ephesians 1:15-17.
For this reason I too, having heard of the faith in the Lord Jesus which exists among you and your love for all the saints, do not cease giving thanks for you, while making mention of you in my prayers; that the God of our Lord Jesus Christ, the Father of glory, may give to you a spirit of wisdom and of revelation in the knowledge of Him.
Ephesians 1:15‭-‬17 NASB
https://bible.com/bible/100/eph.1.15-17.NASB
Paul knew the amazing impact that the people had had on him. He also knew and understood just how powerful prayer was. As a result, Paul would spend his time thanking God for the Ephesians while he was praying for them.
How often have we thanked God for placing the people in our lives that are around us? Are we truly grateful for the influence that is made on us by the individuals that we surround ourselves with? God has gifted us people in our life. We need to thank him for them and pray for them continually.