Book Review – Dangerous Deception by Anne Patrick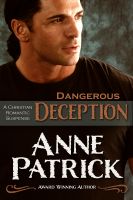 I have found another author to add to my favorites! I love reading Christian romantic suspense stories and I am so excited to have found Anne Patrick. In Dangerous Deception: A Short Story, journalist Gwen Jacobs just can't forget the last dangerous assignment that ended so badly with the slaughter of an entire village. Now, a year later, she is given a chance to right those wrongs, but at what price? Philanthropist Jack Peterson is leading a group of humanitarians to a war torn country and agrees to bring along Gwen to do a story about the situation there, without realizing she may have an alternate purpose.
This is an exciting adventure of a story that kept me flipping pages to the very end. I enjoyed the strong characters and the depth to both Gwen and Jack. Even though it's considered a short story, the plot is completely filled out and it's still over 23, 000 words. I love the truths and the message of faith and forgiveness that are found within the pages. This short story is a great read and well worth the time to pick up. I look forward to reading more by Anne!
Best of all, this book is FREE over a Smashwords. Click on the cover above to go get your copy today!
Please follow and like us: