Christian Devotional – February 18, 2019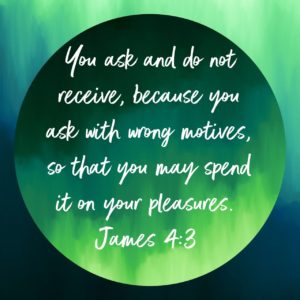 Motives matter. When we pray and ask God for things, our motives for asking matter. We just read yesterday that our selfishness is the cause of the quarrels and fights among believers. Is it any surprise that James next addresses our selfish prayers to God? Read James 4:2-3.
You ask and do not receive, because you ask with wrong motives, so that you may spend it on your pleasures.
James 4:3 NASB
https://bible.com/bible/100/jas.4.3.NASB
Why doesn't God answer prayer? When the prayer is selfish and self-centered, God doesn't give us those requests because they would harm us more than help us. We are to be about seeking God's Glory in our life, but if our prayers for ourselves are for things that won't help glorify God, then the answer will be no.
We can, and should, pray for so many things for ourselves. We should pray to be more like Jesus in our words and deeds. We should pray that God uses us to impact our world around us for Him. We should pray that God allows us to have what we need to glorify Him every day. But, praying for God to give you the best and brightest and shiniest may not be what God wants you to have because it will distract you from Him.
Keep focused on Him and He will answer our prayers in ways that will glorify Him.
Please follow and like us: