Christian Devotional – January 16, 2019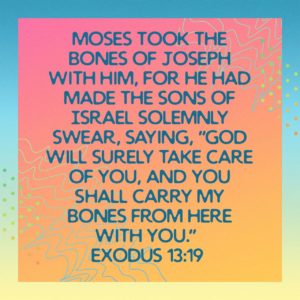 Promise fulfilled. In our last look at Joseph, we see that Moses, several chapters and hundreds of years later, followed through on exactly what Joseph had asked of them. Read Exodus 13:18-19.
Moses took the bones of Joseph with him, for he had made the sons of Israel solemnly swear, saying, "God will surely take care of you, and you shall carry my bones from here with you."
Exodus 13:19 NASB
https://bible.com/bible/100/exo.13.19.NASB
Joseph may not have been around to see it, but the God did exactly what He said He would do. As the children of Israel got ready to leave, they also followed through on what they had promised to Joseph and carried his bones out with them.
It would still be several more years before those bones found rest as they traveled with the Israelites through the wilderness for 40 years. But eventually we see Joshua 24:32.
Now they buried the bones of Joseph, which the sons of Israel brought up from Egypt, at Shechem, in the piece of ground which Jacob had bought from the sons of Hamor the father of Shechem for one hundred pieces of money; and they became the inheritance of Joseph's sons.
Joshua 24:32 NASB
https://bible.com/bible/100/jos.24.32.NASB
God fulfills His promises. Will we trust Him and fulfill what we have promised?
Please follow and like us: