Christian Devotional – July 11, 2019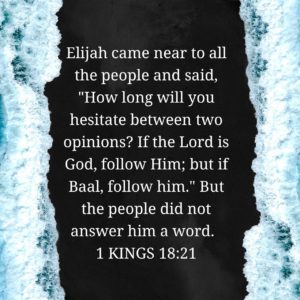 Pick a side! God is ready to show the people just exactly who is God and Elijah is there to set the stage. Read 1 Kings 18:19-21.
Now then send and gather to me all Israel at Mount Carmel, together with 450 prophets of Baal and 400 prophets of the Asherah, who eat at Jezebel's table." So Ahab sent a message among all the sons of Israel and brought the prophets together at Mount Carmel. Elijah came near to all the people and said, "How long will you hesitate between two opinions? If the Lord is God, follow Him; but if Baal, follow him." But the people did not answer him a word.
1 KINGS 18:19‭-‬21 NASB
https://bible.com/bible/100/1ki.18.19-21.NASB
Elijah tells Ahab to get everyone together. There is going to be a moment of decision. The people need to choose. They can't just continue to say they want to follow the one true God, but then allow all these other prophets to continue to practice. Its going to be time for a decision.
Do we walk a line and try to make both God and the world happy? Or have we truly committed to one side or the other? Elijah is going to give the people a chance to choose but we have the very same choice to make. How long will we waver between two opinions? How long will it take us to pick one side?
Please follow and like us: