Christian Devotional – July 22, 2019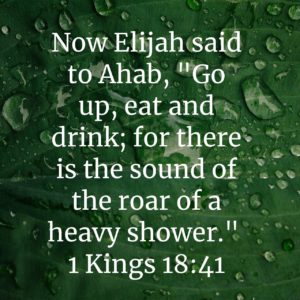 "Will you listen to me now?" Elijah had been talking to ahab and talking to him and he hasn't wanted to listen to anything that Elijah had had to say. Well, now Elijah had just won the challenge and killed all his false prophets. Will he listen now? Read 1 Kings 18:41.
Now Elijah said to Ahab, "Go up, eat and drink; for there is the sound of the roar of a heavy shower."
1 Kings 18:41 NASB
https://bible.com/bible/100/1ki.18.41.NASB
After 3 years of no rain, Elijah tells him that there will be rain. In fact, he tells Ahab that he should get ready for it and enjoy a feast. No more rationing food and water. The rains are coming.
Now that Elijah is telling him what he wants to hear, Ahab is more interested in listening. Do we listen to the words that God has for us all the time, or only when he tells us what we're want to hear?
Please follow and like us: