Christian Devotional – June 28, 2019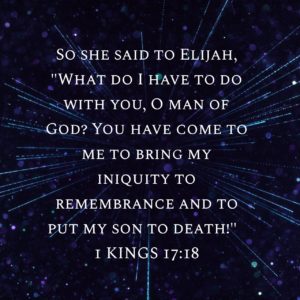 Assumptions. We make assumptions every day about why certain things happen or don't happen. We think we understand the causes and we act, or react, based on these. Sometimes we are wrong. Read 1 Kings 17:17-18.
Now it came about after these things that the son of the woman, the mistress of the house, became sick; and his sickness was so severe that there was no breath left in him. So she said to Elijah, "What do I have to do with you, O man of God? You have come to me to bring my iniquity to remembrance and to put my son to death!"
1 KINGS 17:17‭-‬18 NASB
https://bible.com/bible/100/1ki.17.17-18.NASB
The widow has been doing all that Elijah had told her to do. She has been obedient and then this happens. Her son dies. Sho she makes an assumption about why that is. Instead of thinking about all that God had done for her through this man Elijah, she remembers her sin and assumes that what has happened is a result of her sin.
Most of the time we don't know why God allows the things that he does. We don't always see his plan. And we certainly can't always guess at why. This goes back to faith. We trust that God is good and that he is going to work things out for our good, even when we can't see it or when it doesn't make sense. Plus the widow did the right thing by bringing her trouble to the man of God as he is the one who can help her. Do we bring our trouble directly to God? Do we make assumptions that we really don't have any right to make? God is bigger than we are and we must trust that he is in control.