Christian Devotional – June 6, 2020
The Message – #54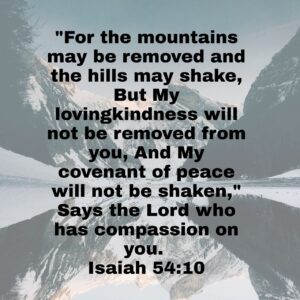 There is nothing that will shake God's commitment to us. Read Isaiah chapter 54, with a focus on verse 10.
"For the mountains may be removed and the hills may shake, But My lovingkindness will not be removed from you, And My covenant of peace will not be shaken," Says the Lord who has compassion on you.
Isaiah 54:10 NASB
https://bible.com/bible/100/isa.54.10.NASB
We can count on God following up and following through on all that He has promised. No matter what we are going through, we can count on God.
Please follow and like us: