Christian Devotional – June 7, 2019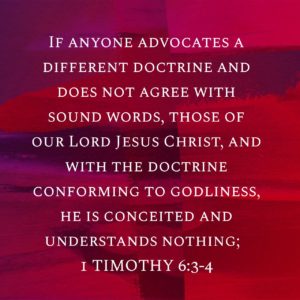 Agreement with Jesus. We must be saying the same things that Jesus is saying. If we are not, then we are arrogant and conceited. See what Paul says in 1 Timothy 6:3-4.
If anyone advocates a different doctrine and does not agree with sound words, those of our Lord Jesus Christ, and with the doctrine conforming to godliness, he is conceited and understands nothing; but he has a morbid interest in controversial questions and disputes about words, out of which arise envy, strife, abusive language, evil suspicions,
1 TIMOTHY 6:3‭-‬4 NASB
https://bible.com/bible/100/1ti.6.3-4.NASB
Everything that we stand for should be what Jesus Christ stands for. If we are saying or doing anything different from what Jesus says and does, we are doing so out of arrogance that we know better. The fact is, he is the creator of the universe and he knows everything so it would be foolish of us to assume that we know more than Jesus does.
We are to rely on him and to allow him to guide us and give us direction. He is truth and anything that he says and does is truth. If we do anything outside of him, we are following a lie. What are we following today?