Christian Devotional – June 7, 2020
The Message – #55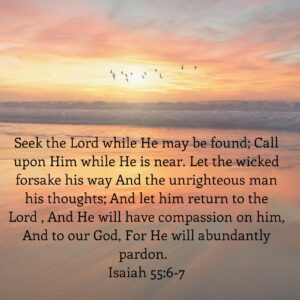 Seek and call on the Lord. This is the only way we will experience the compassion and forgiveness of the Lord. Read Isaiah 55, focusing on verses 6 and 7.
Seek the Lord while He may be found; Call upon Him while He is near. Let the wicked forsake his way And the unrighteous man his thoughts; And let him return to the Lord , And He will have compassion on him, And to our God, For He will abundantly pardon.
Isaiah 55:6‭-‬7 NASB
https://bible.com/bible/100/isa.55.6-7.NASB
Choosing to come to God doesn't mean that we just invite God to be part of our life. When we choose to follow God, we ask him to change us, to forgive us, to pardon us. We recognize that we need his mercy and grace, which he freely gives when we come to him with a repentant heart. We are to seek the Lord and as we seek him, he allows us to find him and with him all the characteristics that he is including his forgiveness, grace, and mercy.
Please follow and like us: