Christian Devotional – May 14, 2019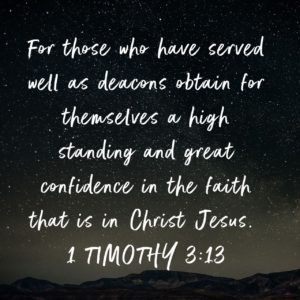 Serve well. It's important to note that there is a difference between just serving and serving well. Read 1 Timothy 3:12-13.
Deacons must be husbands of only one wife, and good managers of their children and their own households. For those who have served well as deacons obtain for themselves a high standing and great confidence in the faith that is in Christ Jesus.
1 TIMOTHY 3:12‭-‬13 NASB
https://bible.com/bible/100/1ti.3.12-13.NASB
Those who serve well have an opportunity to see themselves in high standing and great confidence in the faith that is Jesus Christ. interestingly, the way that you serve well is by allowing Christ to serve through you. All of the things that pride could tell you that you should be seeking are all the things that you only receive through humility. Being able to humble yourself and allow Christ to move and work through you is a requirement in order to be able to have served well.
Sometimes the best leaders and the best servants don't seek out the leadership position. Finding people and helping them work them to a good service position as you train them to follow Christ can be deeply rewarding. Will we be told that we served well? Does our service, and our attitude during our service, lineup with what Paul gives as the criteria here?
Please follow and like us: