Christian Devotional – May 30, 2019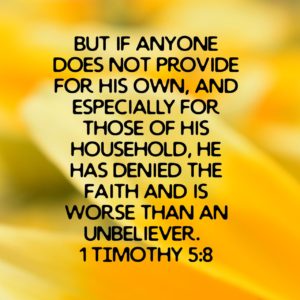 Responsibility. Each one of us has a responsibility to look after and care for one another. Paul made this very clear to Timothy in 1 Timothy 5:7-8.
Prescribe these things as well, so that they may be above reproach. But if anyone does not provide for his own, and especially for those of his household, he has denied the faith and is worse than an unbeliever.
1 TIMOTHY 5:7‭-‬8 NASB
https://bible.com/bible/100/1ti.5.7-8.NASB
We have a responsibility to take care of those we are around. We saw this as we studied James a couple of months ago. Here, Paul reminds Timothy that our faith is demonstrated as we care for those around us. This can include our biological family, but can also refer to our church family as well. Do we seek out others and understand their needs and try to meet them?
So often, when we are around other people, it can be easy to put on a mask and pretend that everything is OK. However, as we are open to all that God has doing in our lives we will be transparent with those we are around regarding our needs and they will share their needs with us. Do we actively seek out the needs other people have and look for ways to meet those needs? Are we looking for a way to demonstrate the love of Christ in the lives of those we are around?
Please follow and like us: