Christian Devotional – September 13, 2020
Journey Through Ephesians, #8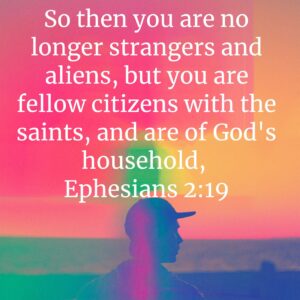 You belong. So many people in the world are searching for that sense of belonging and fellowship. Paul explains where we can find that. Read Ephesians 2:17-22.
and he came and preached peace to you who were far away , and peace to those who were near ; for through Him we both have our access in one Spirit to the Father. So then you are no longer strangers and aliens, but you are fellow citizens with the saints, and are of God's household, having been built on the foundation of the apostles and prophets, Christ Jesus Himself being the corner stone, in whom the whole building, being fitted together, is growing into a holy temple in the Lord, in whom you also are being built together into a dwelling of God in the Spirit.
Ephesians 2:17‭-‬22 NASB
https://bible.com/bible/100/eph.2.17-22.NASB
Once we realize that we are all unified in Christ, which was what we discussed yesterday, then we realize just how deeply we belong to one another and to him. We have a family in Christ. We belong and are accepted because of Christ. God invites us to be part of his family. As a result, we can also be part of the family of God when we meet with fellow church members here.
Are you looking for a place to belong? We love you and are committed to you because of our love for Christ. Through Christ, you can finally feel that true sense of belonging.