Christian Devotional – April 20, 2019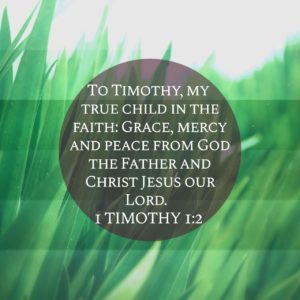 Who to share with? Yesterday we saw Paul writing this letter and now, we must understand who he is writing the letter to. Paul mentions Timothy as the recipient to this letter. Read 1 Timothy 1:2.
To Timothy, my true child in the faith: Grace, mercy and peace from God the Father and Christ Jesus our Lord.
1 TIMOTHY 1:2 NASB
https://bible.com/bible/100/1ti.1.2.NASB
While Timothy may not be Paul's biological son, Paul has adopted him as a son in the faith. Paul has taken it upon himself to make sure that Timothy understands all that God has for him and how he should be using it his life.
That is a big component of sharing the truth of what God has given us. Do we tell the next generation what God has shown us? Timothy needed a mentor and he found it in Paul. When we think about sharing what God has taught us and given us, we can look at sharing either with one person a lot over time, or we can share with many people a little bit as we go through life. At different points, we should have both types of people in our lives. Who is our Timothy? Who are we pouring into as a parent teaching their child all that God has taught us?
Please follow and like us: