Christian Devotional – June 8, 2020
The Message – #56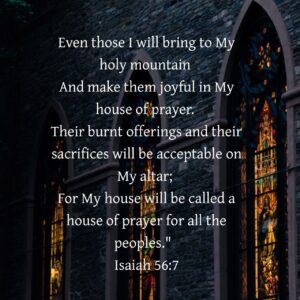 God's House. What do you think of when you hear someone mention God's House? Read through Isaiah chapter 56, focusing on verse 7.
Even those I will bring to My holy mountain And make them joyful in My house of prayer. Their burnt offerings and their sacrifices will be acceptable on My altar; For My house will be called a house of prayer for all the peoples."
Isaiah 56:7 NASB
https://bible.com/bible/100/isa.56.7.NASB
God talks about bringing all people who follow Him together, whether they are his people or foreigners. The only criteria is that they follow Him. Then he mentions this. His house is to be a house of prayer. This is so important that Jesus later quoted this verse when he saw his house being used as something else.
Are we praying? Are we known for prayer? When we gather together, we are to be praying together. We are the church and we are to be the house of prayer!
Please follow and like us: