Christian Devotional – May 9, 2019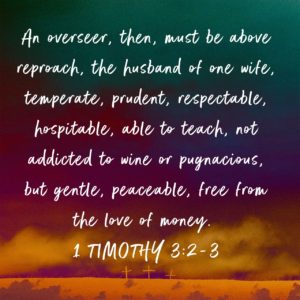 Criteria. As we learned yesterday, service is work. While anyone can serve, not just anyone can serve in leadership. There are prerequisites for someone who desires a place of leadership and service in the church. Paul goes on to list these requirements here read 1 Timothy 3:2-3.
An overseer, then, must be above reproach, the husband of one wife, temperate, prudent, respectable, hospitable, able to teach, not addicted to wine or pugnacious, but gentle, peaceable, free from the love of money.
1 TIMOTHY 3:2‭-‬3 NASB
https://bible.com/bible/100/1ti.3.2-3.NASB
Some people don't like having to meet a list of criteria. However, if there isn't a list or a standard by which people should expect their leaders to adhere to, then how do we determine who should be a leader? Paul lists several things here that we can look through and all we really see, is a picture of the character of Jesus Christ. Anyone who wants to serve in a leadership capacity in the church should be seeking after the character of Jesus Christ.
Are we willing to hold our life up to the picture of Jesus Christ? On our own we can never measure up. That is why, if we have asked Jesus Christ into our heart, we allow him to live through us. As he lives through us, he is able to create in us his character. That is the true measure of leadership for a church. We cannot lead someone else where we ourselves have not been. If we are not allowing Jesus Christ to live through us, then we cannot teach others how to let Jesus Christ live through them. Leadership begins as we lead ourselves and Paul makes that clear here.
Please follow and like us: