Christian Devotional – September 22, 2020
Journey Through Ephesians, #13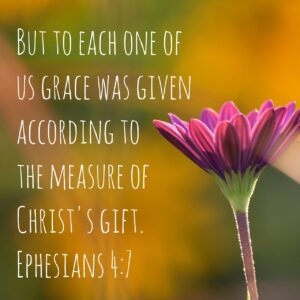 We have all been given exactly as much grace as we need. Read Ephesians 4:7-10.
But to each one of us grace was given according to the measure of Christ's gift. Therefore it says, " when he ascended on high , he led captive a host of captives , and he gave gifts to men ." (Now this expression, "He ascended," what does it mean except that He also had descended into the lower parts of the earth? He who descended is Himself also He who ascended far above all the heavens, so that He might fill all things.)
Ephesians 4:7‭-‬10 NASB
https://bible.com/bible/100/eph.4.7-10.NASB
As Paul continues to explain, we each have been given specific gifts from God. And those gifts, along with his grace, had been given to us exactly the way we need it in the exact quantity that we need. God does not ever short-change us. We would never find that God's grace is not sufficient.
It's important to recognize and understand just how complete the grace of God is. God's grace does in us and through us that which we could never even hope to attempt to do ourselves. Through God's grace we can be made right with him because of the sacrifice of Jesus Christ. His grace is exactly enough to cover everything that we need it to.