Christian Devotional – September 20, 2020
Journey Through Ephesians, #12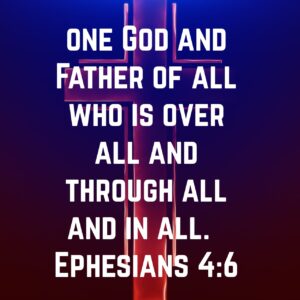 God is in control. No matter what is going on and no matter what situation we find ourselves in, God is in control and over all. Read Ephesians 4:1-6.
Therefore I, the prisoner of the Lord, implore you to walk in a manner worthy of the calling with which you have been called, with all humility and gentleness, with patience, showing tolerance for one another in love, being diligent to preserve the unity of the Spirit in the bond of peace. There is one body and one Spirit, just as also you were called in one hope of your calling; one Lord, one faith, one baptism, one God and Father of all who is over all and through all and in all.
Ephesians 4:1‭-‬6 NASB
https://bible.com/bible/100/eph.4.1-6.NASB
God is over all. That is a truth that we can know, but it is also a truth that should impact how we live our lives. If God is truly in control, then that changes the way we live day-to-day. We can act differently, talk differently, problem solve differently when we know that God ultimately is in control of everything. It doesn't matter whether we are in wonderful and positive circumstances or if we're in negative, terrible circumstances. God is in control.
We can walk in hope and trust through him every day. Does the reality of God's position in the universe impact the way we live our life each and every day? If not, then we don't truly understand God's position in our lives.