Christian Devotional – December 19, 2019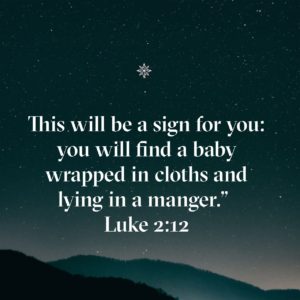 Humility. The angels have just announced the birth of the God of the universe as a human child and how did they describe him? He's wearing rags and lying in an animal feeding trough. Read Luke 2:12.
This will be a sign for you: you will find a baby wrapped in cloths and lying in a manger."
Luke 2:12 NASB
https://bible.com/bible/100/luk.2.12.NASB
That sure would be a sign. No one would ever have assumed that after such an amazing announcement of birth, that baby was lying in a feeding trough wearing rags. The thought would have been that they would find the child in a king's palace wearing riches and gold. However, that is not how Jesus Christ came.
Jesus was humble and he took on humility by even coming to Earth in the first place. Stepping out of heaven and all the riches that he is entitled to and that are rightfully his, he left those to come to Earth to live the life of a human so that he could provide a way of salvation for us a. What amazing humility!
Do we understand that humility is the path that we are to take? There are no shortcuts to leadership and there are no work arounds to get people to respect you and follow you. Humility is the only way to achieve that. When we look at our lives today, are we willing to humble ourselves to those around us?
Please follow and like us: