Christian Devotional – June 26, 2019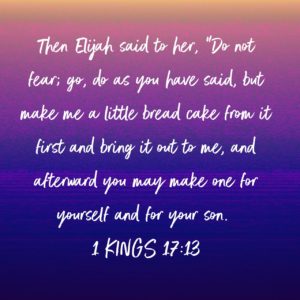 Give God your best. Elijah was working with the widow that God had sent him to. He knew the plan, but the widow did not. Read 1 kings 17:13-14.
Then Elijah said to her, "Do not fear; go, do as you have said, but make me a little bread cake from it first and bring it out to me, and afterward you may make one for yourself and for your son. For thus says the Lord God of Israel, 'The bowl of flour shall not be exhausted, nor shall the jar of oil be empty, until the day that the Lord sends rain on the face of the earth.'"
1 KINGS 17:13‭-‬14 NASB
https://bible.com/bible/100/1ki.17.13-14.NASB
Elijah knew that she was nervous. He knew that she didn't have much. However, he sought to calm her and reassure her. Still obedience comes from giving God your best and giving it to him first. Elijah asked her for a cake first and then she could use what was left for herself and her son. It takes faith to give God the best first. You never really know what will be left. That is where faith comes in.
Do we bring our first and best to God? Or, do we try to give Him what is leftover? God deserves our best and if we will give that to Him, we will never be disappointed with what He provides for us after that.