Christian Devotional – June 25, 2019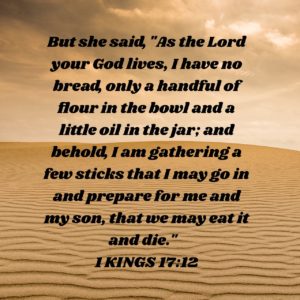 Perception. Yesterday we read that God commanded Elijah to go to a certain widow because she was going to provide for him. Today we see that widow not knowing or understanding anything about that and struggling to even provide for herself. Read 1 Kings 17:10-12.
So he arose and went to Zarephath, and when he came to the gate of the city, behold, a widow was there gathering sticks; and he called to her and said, "Please get me a little water in a jar, that I may drink." As she was going to get it, he called to her and said, "Please bring me a piece of bread in your hand." But she said, "As the Lord your God lives, I have no bread, only a handful of flour in the bowl and a little oil in the jar; and behold, I am gathering a few sticks that I may go in and prepare for me and my son, that we may eat it and die."
1 KINGS 17:10‭-‬12 NASB
https://bible.com/bible/100/1ki.17.10-12.NASB
Elijah is obedient again. He finds the widow that the Lord told him about and he asks her for some water and some bread. However, the widow lets him know that she barely has anything for herself. In fact, she is in the process of making a last meal for herself and her son. Yesterday when we read that God had commanded a widow to take care of Elijah, today we see that widow didn't understand that command, hadn't heard it, or didn't know what it meant.
How often are we blinded by our own perception of our situation? This widow only saw what was immediately in and around her. However, while she was worrying about how she was going to provide for herself and her son, God had already figured that out and had plans in motion and in place to take care of that.
We must remember that no matter what our situation and circumstance looks like, God sees a bigger picture than we do. God is always working and moving behind the scenes and we must trust him. Will we trust God in all our situations even when we can't see how he could possibly get us out of one to the next? He has a plan, and it's about his perception of the situation, not ours.