Christian Devotional – September 16, 2020
Journey Through Ephesians, #11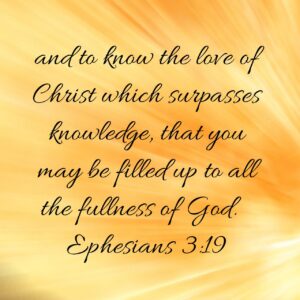 To know. There are a lot of things that we "know." We are constantly processing information each day and yet there are truths that Christ wants us to have complete confidence in. He wants us to "know." Read Ephesians 3:14-21.
For this reason I bow my knees before the Father, from whom every family in heaven and on earth derives its name, that He would grant you, according to the riches of His glory, to be strengthened with power through His Spirit in the inner man, so that Christ may dwell in your hearts through faith; and that you, being rooted and grounded in love, may be able to comprehend with all the saints what is the breadth and length and height and depth, and to know the love of Christ which surpasses knowledge, that you may be filled up to all the fullness of God. Now to Him who is able to do far more abundantly beyond all that we ask or think, according to the power that works within us, to Him be the glory in the church and in Christ Jesus to all generations forever and ever. Amen.
Ephesians 3:14‭-‬21 NASB
https://bible.com/bible/100/eph.3.14-21.NASB
This is such a beautiful prayer that Paul prays for the people. This is actually a prayer that I often use when praying for other people. Part of what Paul prays for here is for the people to have the ability to know something that actually surpasses knowledge. God's love for us and the way in which he cares for us is something we truly cannot understand the depth of. We cannot fathom all that God has done for us and the way in which God loves us and desires us. It's simply more than we can understand.
Yet, Paul prays that we will have a glimpse into what that looks like for us. If we knew just how valued we are by God and just how much he cares for us, it could very well change our entire perspective on life.
What do we pray for ourselves? Do we pray this type of prayer for ourselves? Do we pray it for other people? Spend time praying for yourself and for other people the same things that Paul prayed for because that's how we are able to see the same results that Paul saw.