Christian Devotional – June 21, 2019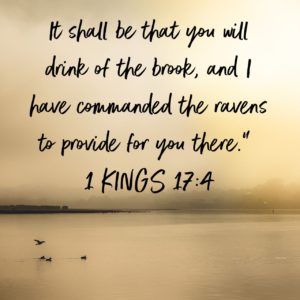 "I got your back." Elijah had delivered a difficult message. Now, God is helping Elijah understand that He will be there to take care of him through this difficult time. Read 1 Kings 17:2-4.
The word of the Lord came to him, saying, "Go away from here and turn eastward, and hide yourself by the brook Cherith, which is east of the Jordan. It shall be that you will drink of the brook, and I have commanded the ravens to provide for you there."
1 KINGS 17:2‭-‬4 NASB
https://bible.com/bible/100/1ki.17.2-4.NASB
God knew and understood the Elijah was going to need someone to take care of him during this time. There was going to be no water for 3 years. Crops were going to fail, food was going to be scarce, life was going to be very difficult for all of the people of Israel because of God's judgment. God let Elijah know, "Look, through at all, I got you. I won't let anything happen to you." What amazing reassurance!
As we see God moving and working through things, we may not always understand why he's doing or what he's doing, but God has promised to take care of us. Will we trust him? God let Elijah know that he would take care of him, but Elijah still had to go and do what God told him to do. If Elijah had not gone to that area to wait, he would not have been in a place to receive God's provision. Are we obedient to what God tells us? Our obedience is the only way we can receive the true provision that God has designed for us.